Making a job available to every student according to his capabilities. An active Corporate Relations team comprising of Directors and energetic and enthusiastic students have made Indira Placements one of the best in the country. Some of the highlights of Indira Placements :
Every year more than 500 companies on campus ( for summer internship projects and final placements)

Salary: Average Rs 4.8 lacs; Highest: Rs 18 lacs

Leading companies from all major sectors like Banking, Financial Services, Auto, Logistics, Retail, Manufacturing, Hospitality, IT, Consulting, Research, Pharma, Telecom, Media, FMCG. FMCD, Ecommerce, Real Estate etc.

Excellent job profiles in Marketing, Research, Operations, Sales, Consulting, Finance- Corporate, Banking and Analysis, Pre-Sales, Business Analyst, Software Development, Testing, Supply Chain Management etc.

Long-standing relationships, MoU's, tie-ups with multinationals, Indian MNCs and Indian Corporates.
INVITATION TO CORPORATES FOR CAMPUS SEASON –20-21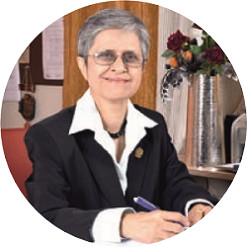 Ms. Madhuri Sathe
Executive Director – Corporate Relations
Indira Group of Institute
"The true sign of Intelligence is not Knowledge but collaboration of curiosity and passion " Dear Corporate Partners,
We would like to take this opportunity to invite your esteemed organization for our campus placement activities for our 2019 – 2021 batch. At Indira, we ignite the students with the passion which is the energy to keep them going with happiness, excitement and expectations. Students are encouraged to think unencumbered by prejudices and understand what is beyond the obvious. We nurture inquisitive, enterprising and curious outlook of students.